RECOGNITIONS
Devon L. Garner -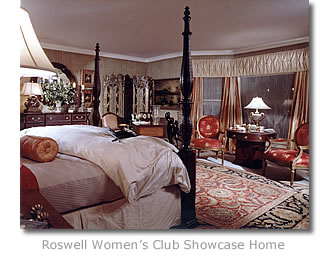 Atlanta award winning interior designer, Devon Garner started her design career in 1996 at Flack's Interiors in Atlanta Georgia. After quickly becoming a high producer, she was hired by Rich's Interior Design Studios to launch the design studios at Gwinnett Place and North Point locations. There, she ranked as a top producer and highest among customer satisfaction.
In 2001, Ms. Garner opened DLG Interiors, Inc. in Atlanta, Georgia to serve high end residential and businesses throughout the Southeast. She currently serves as president and interior design director for all interior design and remodeling projects. Her design highlights include vacation residences in Park City UT, assisted living units in Naples FL, new home consultations at Reynolds Plantation at Lake Oconee, and building renovations and reception areas for Intelligent Systems in Norcross, Georgia.
Accomplishments include being published in Veranda and Florida design magazines, as well as having her own line of Chinese Watercolors published by Sundance Publishing in Orlando, FL. Ms. Garner has a BBA in Marketing from Georgia State University, AA in Fine Arts, and a Graphic Design Portfolio from Art Institute of Atlanta. Prior to becoming an Atlanta interior designer, Ms. Garner had a successful career in marketing and new product development for the financial industry.
Testimonials -
Marcy Powers | Operations Manager
ISC Properties, LLC
"During the past twelve years, she has worked with my property management company on numerous projects. She tirelessly provided creative solutions to unusual problems and continually worked within our budget. Her project management skills are excellent and her ability to work with our maintenance staff and contractors is exceptional. Working with Devon is always a delightful experience, and we feel fortunate that we are able to work with someone possessing her talent, patience and charm."
Susan Roberts | Homeowner, Ansley Park
Atlanta, Georgia
"She is an extremely talented designer, and it has been a pleasure working with her. Devon has a special talent in communicating and listening to uncover that special feeling I want for each room. In working with her over the years, I have actually come to understand my own creative style. Each room in my home is a unique, beautiful, and timeless environment with the perfect colors, furniture and accessories. I enjoy working with Devon because she always worked with my budget, timeframe."
Bob and Martha Marshall | Homeowners, St. Ives Country Club
Duluth, Georgia
"Devon and her staff have just been super! She has patiently worked with our preferences and transformed the nine year-old house we purchased into a comfortable, elegant, inviting home that has far exceeded our expectations. She has assisted us not only in selecting furniture and fabrics, but also in locating contractors. We have had many friends, neighbors, and just passers-by go out of their way to compliment our home. Decorating our home has been a delightful experience and we feel fortunate that we are able to work with someone of Devon's talent, patience and southern charm."
Credits -